It is being called the winter of discontent. The country being called to a stand still by power hungry unions, attacks on the working man etc.
The public sector. Three words that can cause a sneer quicker than a dog turd on shag pile cream carpet.
Since when did serving in the interests of the public become such a whipping boy? For the vast majority of the public sector their careers are vocations. The hundreds of thousands of police officers, nurses and (dare I even type this) teachers are there to serve the public, to ensure future generations have the freedoms to achieve their full in life.
The public sector remains largely unionised because there is little choice in terms of employer especially if you want to remain serving the wider public. However, in typical Tory style, the system is under attack. Now I must focus on education here as this is the area I know most about being one of those gold-plated pension seeking, 9-3, 13 weeks paid holiday teacher types (gotta love the Daily Mail).
Michael Gove. Yes he who feels it necessary to write a foreword to the Bible. Yes that is right, your eyes didn't just go all funny after another Mint Baileys, he is writing a foreword to the BIBLE and sending a copy to each state school in the country. As ridiculous as this might seem it is tame compared to some of the attacks our profession has come under from Gove.
Academies were the first onslaught. For the uninitiated these are schools sponsored by large organisations (usually business or religious groups) and are out of Local Authority control. Due to their status it means that the Burgundy Book and the STPCD (school teacher's pay and conditions document) can not only be thrown out of the window but put through the shredder and used for 4C's hamster bedding.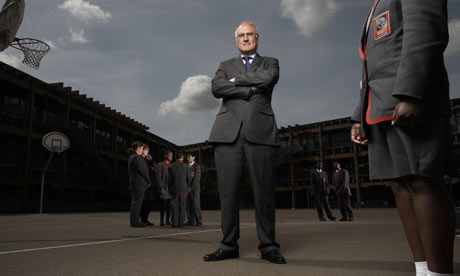 Now we hear about the new appointment to OFSTED. Sir Michael Wilshaw has come into the post with all guns blazing. He was heralded as a super head after his dramatic turn around of Mossbourne Community Academy in Hackney, East London. However, after reading about his plans for OFSTED one wonders at what human cost that turn around came to be.
Some choice quotes from an article in
TES magazine
include
'Sir Michael said the image that teachers conveyed to pupils was so important that Ofsted should comment on teachers' "dress and demeanour".'
'During his speech, he read from a letter sent to him by an underperforming teacher during his early years as a head. The teacher had written that Sir Michael was "crude and inconsiderate", had "the manners of a guttersnipe", and had been a "disaster" for the school's once happy teachers.
"
The lesson of that,"
Sir Michael said, "
is that if anyone says to you that 'staff morale is at an all-time low' you will know you are doing something right
."'
Staff morale being low means you are doing your job
right
?! In a profession such as teaching there is a high percentage of workers who will at some point suffer with work related stress and/or bullying and harassment. In 2007
NASUWT
(National Association of Schoolmasters/ Union of Women Teachers) commissioned a study into work place bullying and harassment. Its findings were very shocking.
'
Two thirds of respondents (67%) had been subjected to some form of bullying or harassment whilst at school or college in the last two years. A demographic analysis of this statistic by gender shows that 66% of females and 72% of males reported suffering some form of bullying or harassment at school or college in this period
.'
So how is Sir Michael going to improve matters with comments about low staff morale being a good thing? This government has managed to spin the press beautifully so that we are in a situation of private vs. public sector workers and this could be the final nail in the coffin for education.
But the best is yet to come! Sir Michael also managed to put the blame of SEN (special educational needs) firmly at the door of early years teachers. Apparently according to our new OFSTED chief a classification of SEN is "too quickly [used] as a cover for not teaching them well enough in the early years".
SEN is a wide reaching spectrum of issues that can range from the most extreme cases to a mild delay in processing. How Sir Michael can put the blame for this to Early Years teaching where budgets are being slashed left, right & centre, specialist units/resources disappearing from every Local Authority, class sizes creeping up to illegal levels and mass teacher redundancies. How does Sir Michael propose his Tory mates sort that one out then? Teaching is stretched to breaking point and there is only so much pressure before that elastic band snaps.
Today we find out that Michael Gove is seeking to appoint a team of hard line disciplinarians into top jobs in a bid to drive up standards in schools. The Education Secretary wants to put individuals who share his "ideas" to be handed some of the most powerful positions in the schools system and Whitehall.
The appointments have apparently come amid growing frustration from Gove and his allies about the 'left wing' (a.k.a unionised) "stranglehold" on the country's education establishment.
Many of the appointments will go to senior figures at Absolute Return for Kids, an educational charity co-founded nine years ago by the hedge fund tycoon Arpad Busson. Ark runs 11 academies mainly in inner London.
The appointees include self styled disciplinarians such as Sir Michael Wilshaw, who is leaving his post as director of education at Ark to become chief of Ofsted. Chris Keates, general secretary of the NASUWT teaching union, said: "There is a real issue about public interest and how public interest is being safeguarded when you have the political manipulation of key bodies that are there to hold the system to account. Part of the issue is that Gove has this very small circle of people like Ark who seem to share his philosophy and vision."
Who will pay the price for Gove's mistakes?
Our children.
What Can I Do?
If you're a teacher, we'd highly recommend you join a Union.
If your local school is thinking of converting to academy status - ask awkward questions.
LOUDLY.